ABOUT VEX 4
VEX 4 DESCRIPTION
Vex 4 is the fourth installment of the game Vex, and this time, it is more challenging than ever. In Vex 4 you must escape from each level by running, jumping and sliding past obstacles until you reach the exit. The game is still pretty much the same, not just in visuals but also in gameplay, you can run, jump, slide, wall climb and even swim to get past the obstacles. There is an added feature here though, there is now a ghost recorder that you can activate to record your movements in the levels, and although this is just an option, it's quite pretty cool to check it out. Controls is still fairly the same, you can use the WASD or the arrow keys, whichever fits your playing style.
Vex 4 is a free action game in which you have to control a stickman to run, jump, and overcome mechanical traps and complicated mazes. In this sequel, you will continue to accompany the ninja on new challenges. With improved gameplay, new acts, new graphics, and new features, this installation will be a real challenge for you. Try to reach the stage's checkpoints! Once you fail, you will be able to start at that point again. You will not only have to jump from various depths above the ground, but you will also have to navigate dangerous obstacles. Remember to collect various loot along the journey! That will be useful for you to complete the adventure.
Vex 4 is the fourth edition of the very popular and loved Vex series. This is a perfect game to practice your abilities and skills. Vex 4 has 9 acts, 9 hard modes, Vexation, and the Challenge Room, an expanding room that puts your skills to the test. Run, slide, jump, even swim, and more! Make sure that you make true decisions to avoid danger! Challenge yourself in this platform running game! Can you conquer these stages? Let's play the Vex 4 game and show off your ingenious skills!
Features
9 acts, 9 hard modes, Vexation, and the expanding Challenge Room

Simple and smooth 2D graphics.

Awesome physics and reflexes

Different trophies to reward you for progress.

Challenging and addictive gameplay

A range of difficulty levels to figure out
FAQ
Is Vex 4 a difficult game?
Vex 4 is an action-platform game that tests your skills and reflexes.
Who developed Vex 4?
Vex 4 was developed by Amazing Adam.
Is there a Vex 5?
Vex 5 is the fifth version of the game in the Vex series and was released in November 2020.
What type of game is Vex 4?
Vex 4 is a classic arcade stickman game. This is a casual yet challenging game that reminds us of the early days of video games, but with a more modern feel.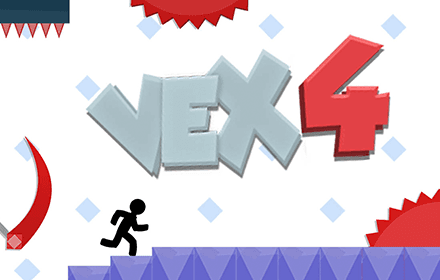 HOW TO PLAY VEX 4
Your mission is to run through the obstacles to find the exit.
Use the arrow keys or WASD to move.
Vex Series
Vex 1
Vex 1 is the first game in the Vex Series. There is also a stickman who is trying to finish all the adventures. The entire game is a platform, full of dangerous obstacles everywhere. Analyze which moves are the best because a wrong move can easily kill you. Vex 1 is attractive not only due to its kind of action game but also its difficulty.
Vex 2
As a sequel to Vex 1, Vex 2 is back to take on another maze filled with deadly traps. In this version, you also have to control your stickman to jump, climb, and slide using the keyboard on a funky platform.
Vex 3, the third version of the Vex series, was released in August 2014. The game is full of deadly traps to overcome on each level. There are 10 regular acts and 9 challenge acts to play and earn different trophies.
The sequel to Vex 5 was released in November 2020. Vex 5 has 10 stages featured in the standard game mode and 30 levels of deadly puzzles in an entirely new game mode called The Challenge Room.
The latest installment of the Vex series, Vex 6, was published in October 2021. This updated version has nine new acts and nine new hard acts. You can also earn extra coins to unlock 64 different skins for your stickman. To do this, try to complete the daily tasks and play the daily bonus level.
Vex 7 was first released on October 27, 2022. This is the seventh installment in the popular series. It's hardly surprise that Vex has a loyal following. The game offers both simple and difficult gameplay because to its clear stickman character design, fluid animation, and hard stages. The excruciatingly challenging hurdles in the extra-deadly Hard Mode are immensely enjoyable to accomplish and will put even the most talented and seasoned gamers to the test.
VEX
ACTION
STICKMAN
vex
action
casual
running
adventure
stickman
2d
strategy
indie