ABOUT TWO BALL 3D DARK
TWO BALL 3D DARK DESCRIPTION
Two Ball 3D Dark, where you will race one another using balls instead of cars, making this a fresh experience for you! The goal is to lead a ball as far as possible in the very challenging environment in which the levels follow each other without interrupting the game. You will race with your balls on platforms and ramps in space, so make sure not to fall between them and lose, but also be careful of the various traps that have been put along the way. Have Fun!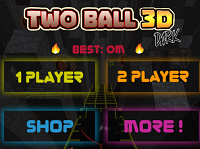 HOW TO PLAY TWO BALL 3D DARK
MOVE: "A,D" and "Left - Right Arrows" ARMOR: "1", MAGNET: "2", DOUBLE COUNTER: "3"