ABOUT SUPER MARIO HANGMAN
SUPER MARIO HANGMAN DESCRIPTION
Welcome to Super Mario Hangman! Your goal is to guess the word. Fill in the blanks by guessing the letter one by one to see if it is in the word or not. Type letters with your keyboard or tap the screen. If you guessed correctly, the letter will appear in the space. Good luck, and remember to invite your friends to play our great games too, fun only here is possible!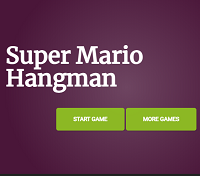 HOW TO PLAY SUPER MARIO HANGMAN
Mouse or tap to play.