ABOUT STICKMAN VECTOR
STICKMAN VECTOR DESCRIPTION
Stickman Vector is a very interesting jumper game. Here, you'll be trying to get through difficult obstacles and to the end of the level. The difficulty of the levels will be rising, so it's going to get progressively more difficult for you to get to the finish line. Try the game out, it's fun!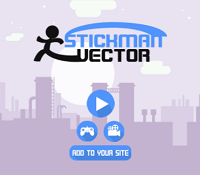 HOW TO PLAY STICKMAN VECTOR
Use the arrow keys to move.