ABOUT STICKMAN RACE 3D
STICKMAN RACE 3D DESCRIPTION
Stickman Race 3D is a fun online game where you will be racing with your opponents on a racetrack full of obstacles. At the beginning, there will be three racers facing each other. Try to avoid all obstacles and at least finish second. Whoever finishes last is eliminated. Good Luck!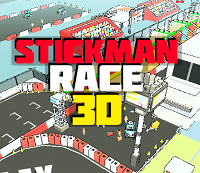 HOW TO PLAY STICKMAN RACE 3D
Use mouse to control in this game.