ABOUT STICKMAN GOLF
STICKMAN GOLF DESCRIPTION
The game world of Stickman Golf is filled with green hills and blue-sky layers. You will be practicing and playing in a cool environment and trying your best to achieve the success that you deserve.you will have the chance to conquer the golden stars. This game rewards you with coins according to the number of the golden stars you earn.You can spend the money you earn at the game shop, where you can buy new hats for your stickman.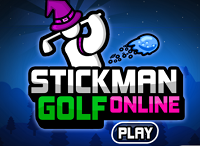 HOW TO PLAY STICKMAN GOLF
Use the computer mouse to control your action in the game.