ABOUT STICK FIGURE BADMINTON
STICK FIGURE BADMINTON DESCRIPTION
Stick Figure Badminton is an interesting sport game. Attractive badminton matches are awaiting for you in the game. Join and gain win. You can also challenge your friend in two-player mode.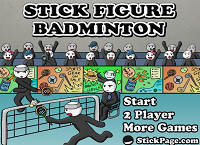 HOW TO PLAY STICK FIGURE BADMINTON
Player 1 use A/D and Player 2 use left/right arrow keys to move.
Player 1 use W and Player 2 use up arrow key to jump.
Player 1 use S and Player 2 use down arrow key to swing.