ABOUT STICK DUEL BATTLE
STICK DUEL BATTLE DESCRIPTION
Welcome to the future world of stickmen, control your character as best you can, try to hit your opponent to drop their health bar to zero and win the round. The first player who has won five matches will become the winner of the whole duel and game, and we definitely hope that no matter who wins, you will keep playing this game and keep having fun! Enjoy!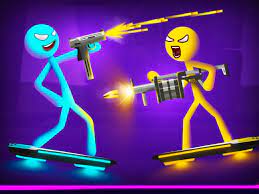 HOW TO PLAY STICK DUEL BATTLE
Player 1: W, A, S, D to move, F to shoot.
Player 2: arrow keys to move, L to shoot.