ABOUT SS EURO CUP 2021
SS EURO CUP 2021 DESCRIPTION
SS Euro Cup 2021 is a football video game developed for sports lovers. You have to try your best to act fast in this game where you can gain unparalleled skills. Have fun and try one of our many other games!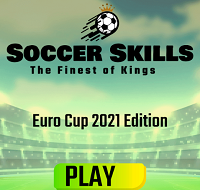 HOW TO PLAY SS EURO CUP 2021
Press/click screen and drag to move the pointer to direct your player and then release to shoot the ball.