ABOUT ROCKET PUNCH 2 ONLINE
ROCKET PUNCH 2 ONLINE DESCRIPTION
Rocket Punch 2 Online is a fun new game in which you can use your powers by launching your rocket fist to eliminate all the targets on your way. Your task is to help the little stickman draw the trajectory of his fists and kill all enemies on the road by launching his fists. It's worth noting that there is more than one enemy in some levels. How many levels can you complete? Break walls, dig the ground, explode bombs, and try your best to defeat the enemy.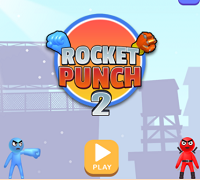 HOW TO PLAY ROCKET PUNCH 2 ONLINE
Click and tap to play.