ABOUT RAGE 3
RAGE 3 DESCRIPTION
Rage 3, your ultimate Action, and Adventure game! You will go on the journey of killing. The enemies are coming only for you so to save yourself, you have to kill them at all costs. Good Luck!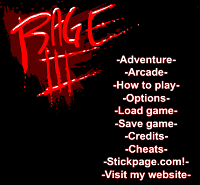 HOW TO PLAY RAGE 3
Use the arrow keys to move.
Double tap on ← or → to perform a roll.
Press Q and E to switch between your weapon and gun.
When your rage is over 100, press D to release a special attack