ABOUT RAGE
RAGE DESCRIPTION
In the game Rage, you will start the game with an endless killing action, which means you will have to kill as many enemies as you can to get coins. The coins can be used in the game shop when you want to buy some in-game Upgrades. Good Luck!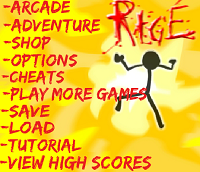 HOW TO PLAY RAGE
Press the arrow keys to move in the game.
Press A and S to attack.
Press the ↓ key to pick up weapon.
Press X to drop a weapon.
Press E to use gun.
Press D to roll.