ABOUT MR FIGHT ONLINE
MR FIGHT ONLINE DESCRIPTION
Mr Fight Online is a launching physics arcade game with 2D cartoon characters. In each level, you have one or multiple enemies that you need to defeat, and you do it not by shooting bullets, but by throwing the fighter directly into the enemies, and if you manage to smash them to pieces, you win. Win each level by clearing all the enemies away, but do it in the given number of bullets, because if you miss and lose too many bullets without defeating all the enemies, the level needs to be started again from scratch. Good luck and have fun completing all levels!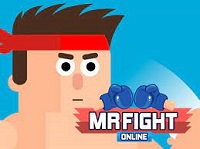 HOW TO PLAY MR FIGHT ONLINE
Use the mouse or touch to aim and shoot the character.