ABOUT LIGHT IT UP ONLINE
LIGHT IT UP ONLINE DESCRIPTION
In this Light It Up Online game, you control a stickman that runs continuously. You have to use your reflexes to jump and slide to overcome deadly obstacles along the way. Interesting point in this game is that you can use many different parkours skills to overcome dangerous situations.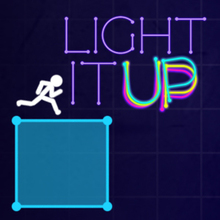 HOW TO PLAY LIGHT IT UP ONLINE
You use Arrows up / down = jump / slide.