ABOUT LADDER CLIMBER
LADDER CLIMBER DESCRIPTION
Ladder Climber is downright fun game! Your goal is to climb as far up the ladder as possible by deciding if you need to swap hands or climb. Since some of the ladder's steps are cut in half and shift, you'll also need to figure out the best pacing. Good Luck!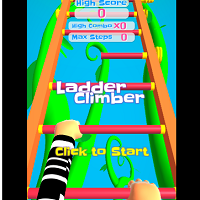 HOW TO PLAY LADDER CLIMBER
Tap on Bottom right button to Climb.
Tap on Bottom left button to Swap Hands.