ABOUT KRISHNA JUMP
KRISHNA JUMP DESCRIPTION
In the game Krishna Jump, he must demonstrate incredible dexterity. Platforms will move to him from different sides, and he must jump on them. The stack of platforms will become higher and higher until it lifts the young god to heaven. Good Luck!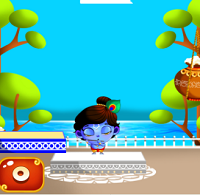 HOW TO PLAY KRISHNA JUMP
Use mouse to control in this game.