ABOUT JUMP! JUMP! BOY
JUMP! JUMP! BOY DESCRIPTION
In this game, you help the little boy jump on circular platforms floating in the water until it reach the goal to next level. It's fun and simple, simply time your jump when the arrow is pointed directly to the next platform. Don't let the boy fall into the water. Have Fun!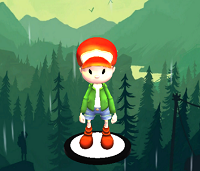 HOW TO PLAY JUMP! JUMP! BOY
Use mouse to control in this game.