ABOUT JOIN CLASH 3D
JOIN CLASH 3D DESCRIPTION
Epic survival run! Start running alone and gather people on your way to collect a massive crowd. Dodge swinging axes and colossal crushing spheres! Avoid monstrous circular saws, deadly red buttons, and a thorny abyss to make it to the finish line. Let's see how far you can get in this crazy survival race!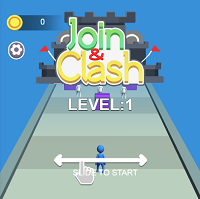 HOW TO PLAY JOIN CLASH 3D
Use mouse to control in this game.