ABOUT JETPACK JOYRIDE
JETPACK JOYRIDE DESCRIPTION
With beautiful graphics, fun gameplay, in addition, it also requires players to have good skills, quick reflexes to be able to overcome the challenges in the game. Definitely Jetpack Joyride is an interesting game you cannot ignore. In this game, the player needs to fly through a lab using polyomino bricks in a series of three rounds, avoiding obstacles and collecting coins along the way. Good Luck!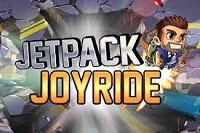 HOW TO PLAY JETPACK JOYRIDE
Hold to go up and release to fall down.