ABOUT JELLY WORLD
JELLY WORLD DESCRIPTION
Get ready to jump and experience the feeling of flying! Move the jelly up and down to make the character successfully enter the next platform and fly to victory. Get diamonds in the air, and you can also touch small items to get more diamonds and make the game experience more perfect. Have fun and good luck playing and getting a big score!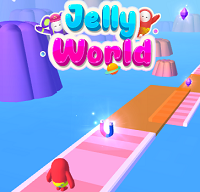 HOW TO PLAY JELLY WORLD
Use mouse to control in this game.