ABOUT INSIDE A CUCKOO CLOCK
INSIDE A CUCKOO CLOCK DESCRIPTION
In Inside A Cuckoo Clock, you'll be in the inside of a huge cuckoo clock. In them lives a little bird that makes sounds when you need to notify about the coming of the next hour. It is not easy, because to get the right number of times, she needs to get to a certain place. Help the bird fly between the huge gears - these are the main parts in the clockwork. Slip and land on a small platform, then press the shift key the desired number of times.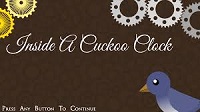 HOW TO PLAY INSIDE A CUCKOO CLOCK
Use the arrow keys to move.
Space: Jump
Shift : cuckoo