ABOUT I WANT YOU DEAD
I WANT YOU DEAD DESCRIPTION
I Want You Dead: Santa an interesting ragdoll game. Score points by tossing the festive teddy bear through stages containing glass, explosives, and other dangerous objects. You have three pulls and three jumps to score as many points as possible. Try to beat the developer's best score in each level.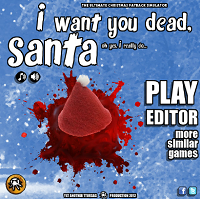 HOW TO PLAY I WANT YOU DEAD
Use mouse to control in this game.