ABOUT GROVER'S DINER DASH
GROVER'S DINER DASH DESCRIPTION
Assist Grover from Sesamestreet by serving all the customers in his newly opened diner! He himself is responsible for delivering all the prepared meals himself. Play the free Grover's Diner Dash and other games at Vex 4!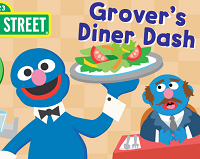 HOW TO PLAY GROVER'S DINER DASH
Use mouse to control in this game.