ABOUT FRIZZLE FRAZ 2
FRIZZLE FRAZ 2 DESCRIPTION
This is the second game in the Frizzle Fraz series. Your task is to overcome the obstacles along the way, collect coins, keys and Frizzy creatures to win the most points. Try to make it to the door in each level and avoid evil creatures.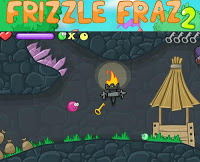 HOW TO PLAY FRIZZLE FRAZ 2
Use WASD or arrow keys to control in Frizzle Fraz 2.