ABOUT FLAPPY BIRD
FLAPPY BIRD DESCRIPTION
What do you get when you combine the awesome game of Fortnite, together with the addictive platformer that is Flappy Bird? You get Flappy Fortnite of course! This is a cool game with an awesome iconic theme.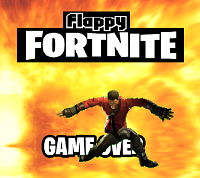 HOW TO PLAY FLAPPY BIRD
Press left mouse button or space bar to ascend.