ABOUT FISH JUMPING
FISH JUMPING DESCRIPTION
Fish Jumping is a very interesting new arcade game. Although there are many beautiful creatures in the sea, there are also many dangerous factors, such as sharks and bombs. Those weak fish are very dangerous. Sharks can swallow them at any time. Goldfish needs your help! Some bombs are floating on the sea and may explode at any time. Don't hesitate, the little goldfish desperately needs your help! Jump to avoid the evil fish and collect stars.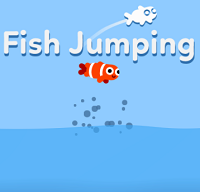 HOW TO PLAY FISH JUMPING
Use mouse to control in this game.