ABOUT DUMB WAYS TO DIE 2
DUMB WAYS TO DIE 2 DESCRIPTION
These little creatures are very cute. They are also stupid. They play with everything and don't know if it's dangerous. They show you many stupid ways that lead to death. You can help them. Just try not to be killed, advice, keep calm and think before taking the first step, danger can be anywhere.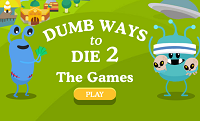 HOW TO PLAY DUMB WAYS TO DIE 2
Use left mouse button to play.