ABOUT DOT ADVENTURE
DOT ADVENTURE DESCRIPTION
Dot Adventure is the challenging arcade game in which you are a little dot on a big adventure! In this game you will find the answer! It has gone for an adventure. But the world around is not as friendly as the dot thought and would rather go back to the line at the end of the sentence. Will you help it to jump all the pit, spines and get to the end of this adventure? There are several levels in the game with a challenge for you. Enjoy the road of the dot that decided to run out of the paper. Have fun.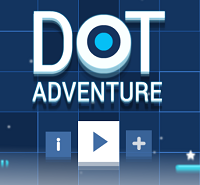 HOW TO PLAY DOT ADVENTURE
Use left and right arrow to move.