ABOUT DEATH CHAMBER
DEATH CHAMBER DESCRIPTION
Help the little creature traverse through Death Chamber with levels filled with dangerous obstacles. You'll bypass a series of obstacles such as spikes, saws and moving platforms. Collect keys to unlock passage to next level. Sometimes you must strategically sacrifice your character as a stepping stone to reach otherwise impassable areas.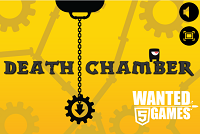 HOW TO PLAY DEATH CHAMBER
Use left / right arrows to move.