ABOUT DEAD DRUNK
DEAD DRUNK DESCRIPTION
You are totally dead drunk but still at the office. Time to stop by at a pub and have another beer. Try to find your way out of that building to your destination without dying. Walk slowly and with care to avoid a deadly mistake as you look out for beer bottles to recharge your blood alcohol level. Much fun!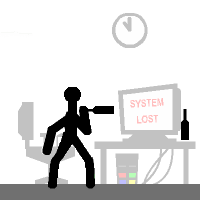 HOW TO PLAY DEAD DRUNK
Controls: Arrows = Move.
Space = Jump.