ABOUT CUNIX: 2D PLATFORMER
CUNIX: 2D PLATFORMER DESCRIPTION
A 2D platformer filled with spikes for you to dodge and reach to the golden quadrangle to clear the level. Its a short game consisting of 6 levels , sometimes it can become a bit frustrating. Hope you like it!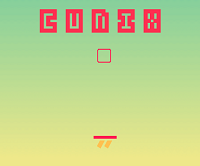 HOW TO PLAY CUNIX: 2D PLATFORMER
Use the arrow keys to move.