ABOUT CRUMPLED
CRUMPLED DESCRIPTION
This game is about a sticky person and a drop of ink on a piece of crumpled paper. In the shortest possible time, the man with a stick must walk to the exit and collect as many stars as possible. Do not forget to move the ink droplets as well: this drop is required at certain times. Characters can pass through purple walls, but not through dotted lines; for ink falls the opposite.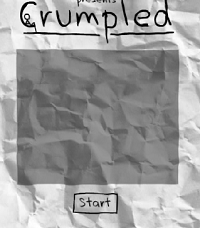 HOW TO PLAY CRUMPLED
Use A and D to move, W to jump and climb walls, and S to slide down.
Use the mouse to control the blob.
Hold Shift or Space to freeze time.