ABOUT CREATIVE KILL CHAMBER
CREATIVE KILL CHAMBER DESCRIPTION
Creative Kill Chamber is a funny point-n-click stickman action game from Stickpage with 12 levels. You have the task of escaping a series of deadly traps designed to test elite soldiers from the general.You need to kill all the enemy one by one and go to the exit of each round, gathering items for your inventory.Good Luck!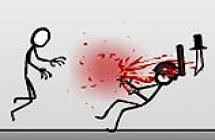 HOW TO PLAY CREATIVE KILL CHAMBER
You can use your mouse to control, pick up and move in this game.