ABOUT CHEAT DEATH
CHEAT DEATH DESCRIPTION
Cheat Death is a brain-teasing game .Your goal is to fill the gaps on the way of the aging character to the magic vial. Sometimes you will have to stack blocks into more than pit before the time is up.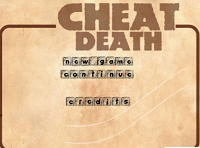 HOW TO PLAY CHEAT DEATH
Drag left mouse button to move the block.