ABOUT BLINK DAGGER Z
BLINK DAGGER Z DESCRIPTION
Blink Dagger Z is a new platformer game in which you'll become a gladiator. Your goal will be to jump from a platform to another while you eradicate your enemies ,overcome obstacles and reach the end line of each level.. Don't let them kill you. Survive, at all costs!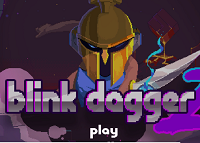 HOW TO PLAY BLINK DAGGER Z
WASD - move, Spacebar - jump, Left Mouse Button - throwing / getting the sword back, Right Mouse Button - teleport to the sword place.