ABOUT BASKET RANDOM
BASKET RANDOM DESCRIPTION
In Basket Random game, try to score a basket by using only one touch with different variations from each other! You have to control the ragdoll characters just in time. Try to manage your two players in the form of sticks, rigid, and often uncontrollable, with the aim of scoring baskets, countering opposing players, or stealing the ball. After each basket, the field, the players, and the physics of the ball will change.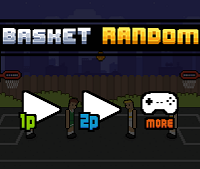 HOW TO PLAY BASKET RANDOM
Player 1: "W" Player 2: "UP ARROW KEY" You can play the game by touch controls on mobile devices or tablets.