ABOUT ANGRY SHARK MIAMI
ANGRY SHARK MIAMI DESCRIPTION
Angry Shark Miami is a side-scrolling swim-and-kill game about a bloodthirsty shark navigating. You control a bizarre shark and try to help him swim around the waters of Miami. You control the anima while it terrorizes the waters, attacks ships, eats people, and even hunts down planes. Lay havoc around the world! Survive for as long as you can, eat people to replenish your blood, and improve your score so that you can unlock the best marine animals, finish all the missions and get the highest score.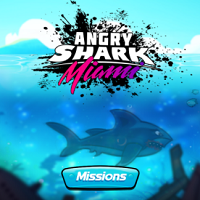 HOW TO PLAY ANGRY SHARK MIAMI
Tap to shoot on mobile Left mouse click to shoot on desktop.
Tap/click boosters in the left bottom corner to activate them.