ABOUT HUNGRY SHARK ARENA
HUNGRY SHARK ARENA DESCRIPTION
Welcome to Hungry Shark Arena game! An online multiplayer shark game, in which you control a shark. Eat other fish and grow to be the biggest shark in this underwater adventure. You can then devour divers, but especially other players by charging and shred them with a blow of your powerful jaw. Good Luck!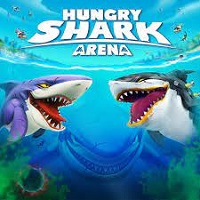 HOW TO PLAY HUNGRY SHARK ARENA
Use your mouse to control the shark.