ABOUT FALL JUMP ROLL
FALL JUMP ROLL DESCRIPTION
Join in the game Fall Jump Roll and test your jump, roll and slide skills. Choose the Single or Compound Mode to play the game firstly. Then show your skills to help the stickmam jump, slide and roll as long as you can. React quickly to avoid the obstacles.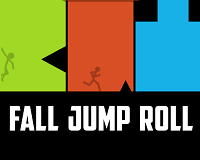 HOW TO PLAY FALL JUMP ROLL
Control: Tap or use the arrow keys to control.